Business
Benefits of Automation in The Payroll Process
Automation in payroll software is robust technology to make your life simpler. As a result, this technology will prevail more in the future. Automation plays a crucial role in everyone's life. It helps in various ways from loan payments to a renewal of your favourite subscriptions. It not only makes your life simpler but also relieves you of the worries to remember these things.
Similarly, automated payroll software will free up some time for your HR. Moreover, payroll software lets them concentrate on other valuable tasks. With traditional payroll processes, your HR department has to do everything in a manual way. Right from data entry, cross verifies the data, and rectify any bugs. We will tell you the benefits of automation in the payroll process.
Advantages of automated payroll management solution:
Reduce errors:
Payroll plays a vital role in employee happiness, and mistakes in it might have legal charges. That is why you do not make any mistakes while calculating the employee's payroll. Because it will hamper your brand image in multiple ways. And increase dissatisfaction in your workforce.
As a result, there is a higher chance of making mistakes if the data is handled manually. An automated payroll system will reduce your mistakes. Because the system gathers, saves, and processes the information automatically.
If you reduce the payroll errors you will save legal charges. But also pay any extra money to your employees. The best payroll software with automation features also avoids duplication. Payroll software ensures no employee is paid twice.
Online payroll management software
will help you with the flexible payment module like pay per user. The online payroll system vendors allow you to add and remove users.
Additionally, you can also pay on a monthly, quarterly, or yearly basis. These vendors allow you to pay as per your choice. A cloud-based payroll software solution will help to save you some extra bucks in your finances.
Payroll is a piece of very confidential and sensitive information. Moreover, it should not be available for everyone. With traditional methods like excel sheets, and papers you cannot secure the data.
The Payroll system solution will provide access to the information to the person with access. The best payroll software solution encrypts your data. It allows access to your team, who has the password to view it.
Detailed and accurate reports:
 Automated payroll software for small businesses will provide error-free reports handy. The cloud-based payroll system ensures that all the reports are accessible to your team in a few clicks.
Your team does not have to enter data and structure it. The management might need to see the reports every month so your team does not have to send them. The reports will be sent to the management monthly without manual interaction.
Automated 
payroll software
 will provide detailed and accurate reports about attendance, leave, overtime, and performance. As a result, accurate and detailed reports will help you; to make strategic decisions.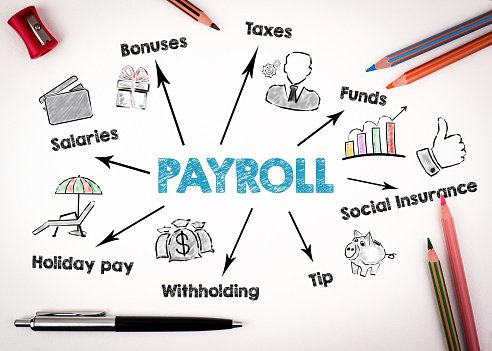 Payroll, work, opportunities, finance and insurance concept. Chart with keywords and icons.
 Organizations have to follow a lot of labour and government laws. Especially when they calculate and process payroll. The best payroll software in India; will help automate payroll processes. It automates processes like processing the PF, PT, ESI, and other mandatory laws.
Moreover, it is crucial to calculate the taxes and file them without any errors. Correct filing will help to avoid penalties and legal implications.
The best payroll software will automate the calculation and deduction of it. Moreover, the payroll software is a perfect tool so that your HR team. They do not have to do it manually.
Employee self serve kiosk:
Your workforce might have multiple questions related to their payroll. Or they might need to access the payslips for various reasons. Automated payroll software will give access to the payslips, deductions.
The payroll system also gives access to attendance and leaves also the other benefits available for them. All the data gets updated in real-time. Further, the employees can view it up-to-date.
In addition, some payroll systems will allow employees to submit the tax declaration. It also gives access to the medical claim benefits.
Integration with other systems:
 Your organization might use other software to simplify their task. However, it will be hectic for your team to gather information from different systems. And compile it together to calculate the payroll.
The best payroll software will integrate with the other systems. The best payroll software solution helps to collect the data from there. In addition, payroll software accumulates data for the HR department to get an overview.
Conclusion:
The best-automated payroll software in India will simplify the task of your team. The best payroll system will help your HR department automate tedious tasks. So that they focus on more valuable tasks like
recruiting
and retaining the top talent.